Diced Potatoes in Soy Sauce
mersaydees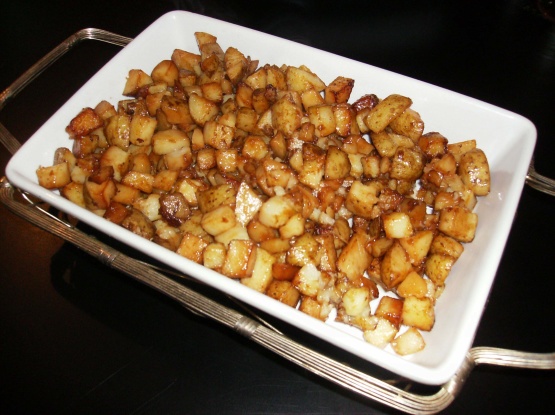 This sounds easy and tasty. From Sunset.

So few ingredients, so simple to make and so delicious: a gem of a recipe that I'll certainly make again. Obviously you need to like the taste of soy sauce. If you do, this recipe is really worth trying! I used low sodium soy sauce. Thanks for sharing this very different potato recipe, Engrossed.
1 1⁄2 lbs thin-skinned potatoes, scrubbed and cut into 1/2 inch cubes

2

tablespoons soy sauce
Heat oven to 450.
Place butter in a 13x9 or 10x15 rimmed baking pan; set pan in oven until butter is melted.
Add potatoes to pan and stir to coat with butter.
Bake stirring occasionally, until potatoes are tender when pierced (about 20 minutes).
Add soy sauce to potatoes and stir to coat.
Continue to bake until potatoes look dry (about 10 more minutes).
Good served with beef roast or steak.