Diced Ham Dinner Starter (oamc)
Pamela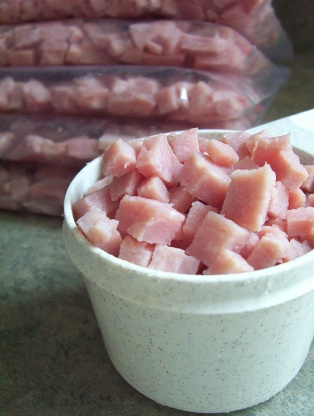 Not really a recipe but having this on hand in the freezer gets dinner on the table in no time flat! Check out my Public Cookbook for recipes to use this in. In addition, you will also need a good knife (electric works best) and 10 medium ziploc freezer bags. **NOTE**I do not add the salt and pepper but I could not submit a recipe with only 1 ingredient so I improvised**

I actually did this today. Husband and I bought a huge ham and got 4 weeks worth of lunch meats for him, and a few ham steaks for dinners, and 2 bags of diced ham. I usually use the diced ham for homemade pizza with pineapple. I wrap all the ham up in their own saran wrap and baggies and place in one freezer bag. That saves freezer space and expensive freezer bags.
1

(2 kg) fully cooked deli ham (honey, old fashioned, black forest, etc.)

1

pinch salt

1

pinch pepper
Cut deli ham into cubes about 1 cm (or less)square. (My kids don't like the skin on the ham so I cut that off too).
Package cubed ham into bags with approximately 1-2 cups of ham in each bag.
Press out as much air as possible, label and freeze.
To serve, add ham cubes to your favourite recipes. Defrost in the microwave if necessary.