Cuistot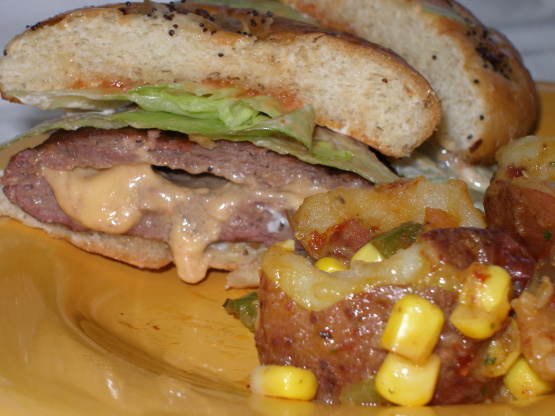 The most tender, juciest, delicious burger you'll ever eat with an explosion of cheese inside.

I've never had a burger with sour cream in it before and was surprised by how flavorful and jucy it made them. These are wonderful, ooey gooey goodness.
2

lbs ground beef (one medium sized package)

6

ounces lipton's onion dip mix (one envelope)

4

tablespoons sour cream
American cheese (one slice per burger)
1⁄4 chopped white onion (optional)
whole wheat hamburger bun
Put the ground meat into a mixing bowl.
Pour one packet of Lipton's onion dip mix into the bowl.
Add sour cream to the meat and onion dip mixture
Add some chopped onions if you'd like
Mix everything together with your hands.
Make a thin patty
Place American cheese on top of the patty.
Form another thin patty top of the cheese so that the cheese is in the middle of two layers of meat. Make sure there is no cheese showing and there is meat around the cheese on all sides.
Cook the burgers on the grill/barbecue (time depending on how well done you'd like them).
Toast the buns on the grill if you'd like.