Diamond Walnut and Blue Cheese Tart With Cranberries
MrsK3343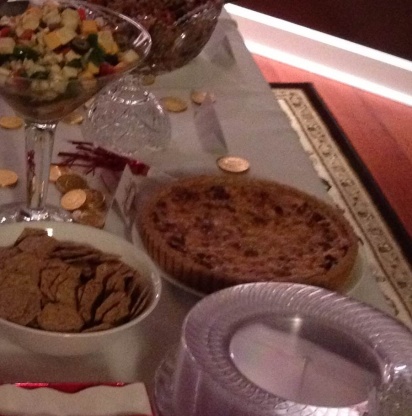 I love blue cheese and cranberries. This is DELICIOUS and I make it every Christmas. Got it from a "Diamond" ad in a 2002 magazine. (To say that the filling of this pie, that has blue cheese, tastes like "stuffing" is beyond me...)

Made this for my best friend's birthday yesterday because she wanted me to bring something along which I could eat. This was easy to convert into gluten free - and it was AWESOME!!! I only got half a piece because everyone wanted to try it - this certainly will be a keeper. Thanks for posting!
CRUST: Pulse dry ingredients and butter in food processor until mixture resembles fine bread crumbs. Add milk; pulse until cough comes together. Turn mixture into a ball then press it into a 9" tart pan. Prick crust. Freeze half hour. Bake at 375 F for 15-20 minutes, until golden.
FILLING: Heat oil in heavy pan, add onion and salt and saute 10-15 minutes--be sure to stir constantly. Add cranberries and sugar; cook until berries pop. Stir in nuts and thyme; set aside.
Combine eggs and cream and whisk until smooth. Spoon walnut-berry mixture into tart shell; crumble blue cheese over top and pour egg mixture over it.
Bake at 350 F for 15-20 minutes, until golden.
Cool 15 minutes before serving.