Diakon Radish & Carrot Salad
gailanng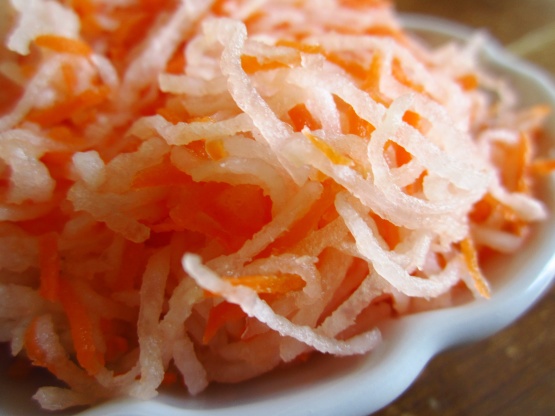 Banchan are veggie sides served with Korean food. Seasoned Mung Beans, Kimchi, and Diakon Radish & Carrot salad are just a few. Serve this with my Korean Beef Bulgogi. This salad is a yummy sweet and sour crunchy addition to the Bulgogi. It is a must have for me. Cook time is standing time.
Toss radish, carrot & salt together in large bowl.
Let stand for 10 minutes
Squeeze dry.
Combine vinegar & sugar in small Celsius
Stir until sugar is dissolved.
Pour over radish mixture.
Toss until well coated.
Refrigerate up to a week.