Diabetic Ginger Peach Parfait
ImPat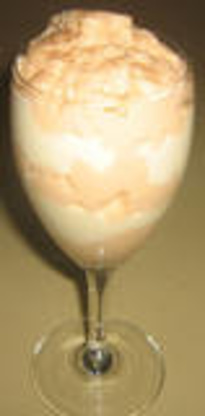 I like the peach flavor in this but any flavor of Jello will work just as well.

Top Review by ImPat
I made this for the DM as part of her 85th birthday dinner and she loved it. For myself there was no taste of ginger from the ginger ale and I had a lot of problems setting the jelly/jello but then I realised that our jelly/jello sets with 500ml of liquid and I had added 750ml (2 cups of vanilla yoghurt) so though initially I had used a peach/apricot jelly/jello I then dissolved a packet of orange/mango jelly/jello in minimal hot water and added it to the original yoghurt mix and put it in the freezer, pulling it out every now and then and stirred till it was set to my liking and dished up with the vanilla yoghurt. Thank you Annacia for a great dessert, made for Bargain Basement.
Dissolve Jello in the boiling water and allow to cool to lukewarm.
Add the ginger ale cold from the fridge.
Mix and chill to a thick syrup consistency.
Then, using a whip, mix in 1 to 2 cups of yogurt, 1 cup will give you a firmer finished dessert and the more you add the softer it will be.
Chill until almost set but still workable.
Spoon into 4 glasses until about 2/3 full.
Spoon in a layer of vanilla yogurt, 1/4 cup(or less depending on the size of the glass) per glass.
Fill remaining room in glass with the Jello mix.
Chill.
At serving, top with the Cool Whip Lite if using.
A sprinkle of cinnamon may be added if desired.