Derf2440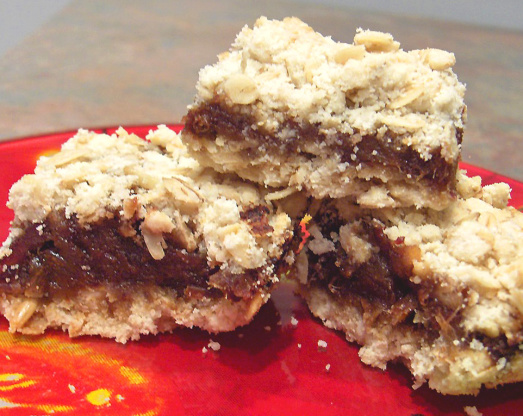 A quick and easy snack recipe, from the SPLENDA company; suitable for any diets requiring reduced sugar; Diabetic diets particularly.

Top Review by Leona
Althought the amount of carbs (carbs break down into sugar) in this recipe are on the high side for the amount per serving it was yummy. I will make this again for my family and try very hard not to eat more then 1 serving. Thanks for the recipe.
Oven: 375 F (190 C).
FILLING: Mix dates, SPLENDA Granular and hot water and cook over medium heat until smooth and consistent.
BOTTOM AND TOP MIXTURE: Mix all dry ingredients.
Cut in softened margarine.
Spread half of mixture onto well greased 8 x 12 pan and press down evenly.
Add filling and spread evenly.
Add other half of mixture on top of filling.
Bake 375 F (190 C) for 25- 30 minutes.