katew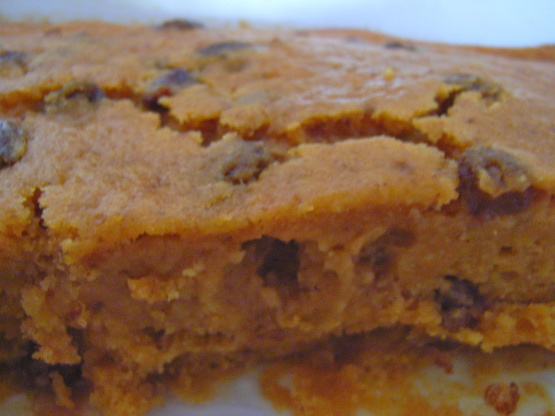 I was looking for a recipe for my DH who adores his fruit cake. I found this on the A.B.C. and he loved it. Soaking time for the fruit is not included in the preparation time

Top Review by katew
I am not rating this as to whether suitable for a diabetic or not . I am giving this cake 5 stars as it is easy to do and delicious. I made it in the form of a slice using only sultanas and it is a great cake, low in fat and sugar. It is so moist too from the puree. We have all loved it for morning tea - so much so I should have made double !!!!
Mix the sultanas, raisins, brandy and water, and then soak overnight.
Mix seived pumpkin, eggs, apple concentrate and milk.
Add the soaked fruit, nuts and spices, then sifted flour and bicarbonate of soda. Return bran left in sieve to flour mixture. Mix well with wooden spoon.
Spoon into a lightly greased 20cm cake tin.
Bake for 10 minutes at 200C, then turn down the heat and bake at 180C until cooked through and browned. (approx. 1-1/4 hours).
Using the apple concentrate gives the sweetness to this cake.