pammyowl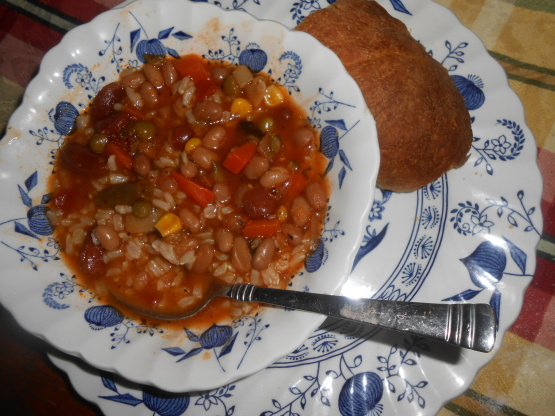 It's a meal in a bowl. There are many versions of Gumbo, I'm sure that everyone has there own. I like this one that I found an site for diabetic's.
Place the chicken in a large soup pot with 1 cup of broth. Bring to a boil.
Add the additional broth, water, onion, garlic, salt (omit this if you need to reduce total sodium), pepper, bay leaf, sage, red pepper flakes, and thyme and simmer for 20 minutes.
Add the tomatoes, corn, and okra and simmer for 15 minutes.
In a separate pan, heat the oil and flour and stir until the flour and oil are golden brown and bubbly, stirring constantly. Add 1 cup of the soup broth to the mixture and whisk until smooth.
Add the mixture back to the soup pot and whisk until dissolved. Simmer 30 minutes. Stir in the rice the last 10 minutes of cooking.