Derf2440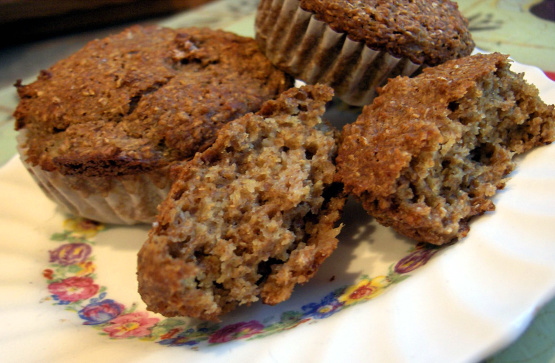 This is my version of a Company's Coming recipe I made suitable for a diabetic diet. Oil may be replaced with more applesauce if you're watching your fat intake. You can also add rasins, blueberries, apples and cinnamon or anything else you can think of.

Very good bran muffins, I used homemade applesauce which was a little chunky so there are bits of apple adding to the texture of the muffins, quite nice! We will enjoy these for breakfasts in the next days, thanks for posting I will make them again.
In a large bowl combine flour, baking powder, soda and salt. Stir well. Push up around sides of bowl making well in cetner.
In another bowl stir buttermilk with bran. Let stand 5 minutes.
Add remining ingredients to bran mixture in order given. Beat with spoon until mixd. Pour into well in flour mixture and stir to moisten. Batter will be lumpy.
Fill greased muffin cups 3/4 full.
Bake at 375 for 20-25 minutes.
Let stand 5 minutes.
Remove from pan.