KateL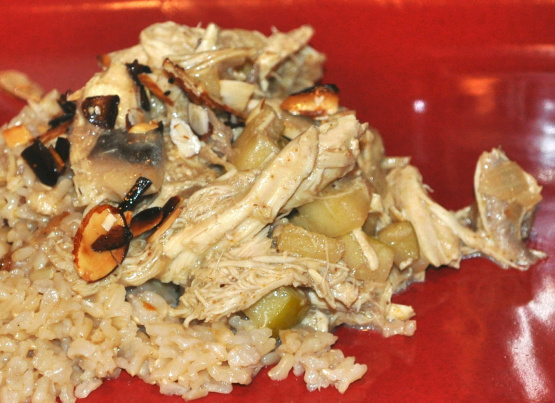 This is a very tasty and nutricious diabetic friendly recipe for Bombay Chicken. Serve it over brown rice.

Top Review by KateL
Light, diet-friendly, easy dinner. I sprinkled those wonderful curried almonds on top of the chicken when served, was the right time? With so many ingredients and so many steps, it would help to put the ingredients in the order to be used. As for the brown rice, I buy a quality brown rice and soak it prior to cooking, and cooked it with defatted broth from Recipe #369106 (which provided great-tasting chicken).
Made for The Wild Bunch for ZWT8's trip to India.
Melt the margarine in a large frying pan [skillet] over medium heat; add the almonds.
Cook the almonds for approximately 10 minutes until they are golden brown; stirring frequently to prevent burning.
Sprinkle 1 teaspoon curry powder over the almonds and toss lightly to ensure they are properly coated Cook for an additional 2 minutes.
Line a plate with paper towels and place almonds on the towels to drain.
Add the apple, onion, and mushrooms to the frying pan and saute for 5 minutes.
Stir the remaining 1 teaspoon curry powder and flour into the apple/mushroom mixture.
Cook over low heat for 2 minutes, stirring frequently, to prevent burning.
Dissolve bouillon granules [or chicken stock cube] in boiling water and add to frying pan with milk and lemon juice.
Cook over low heat 5 minutes or until smooth and thickened, stirring constantly.
Add chicken and continue to cook over low heat, stirring constantly, until the chicken is thoroughly heated.
Serve the Bombay Chicken immediately over brown rice.
This is a really delicious way of adding some changes to your everyday chicken.