Derf2440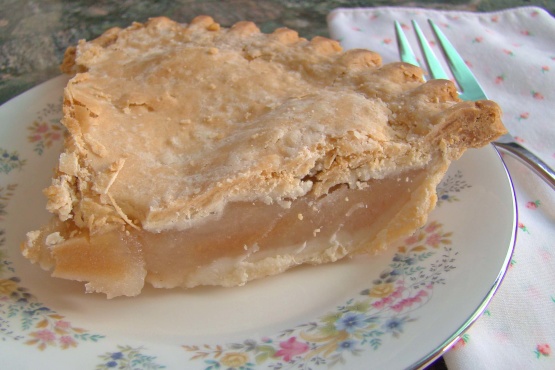 This recipe came from my Aunt's recipe box. She always made this for my Uncle for the holidays.

Wow, what a pie! This was my first time baking an apple pie and I won't look for another recipe. I was supposed to carry a dessert for pastor appreciation dinner at Church. This came together very quickly, but I was nervous about no added sugar. My husband and I decided to "taste-test" it and make sure it would be ok to serve. After the first piece my husband decided it was HIS pie and it wasn't going anywhere. Luckily I had made another dessert to carry. I did use a deep dish pie plate and it filled it to the brim-I used Granny Smith apples and they were large. The apple juice concentrate and cornstarch mixture thickened quickly-next time I'll know what to expect. Thanks for a wonderful recipe!
Fill pie shell with sliced apples.
Heat apple juice to boiling.
Dissolve cornstarch in water and stir into hot juice.
Cook until thickened.
Sprinkle cinnamon over apples.
Dot with butter.
Pour juice over all and cover with upper crust.
Prick crust.
Bake in 450 for 10 minutes.
Reduce heat to 350 and bake 35-45 minutes.