Diabetes-Friendly Penne Boscaiola
Annacia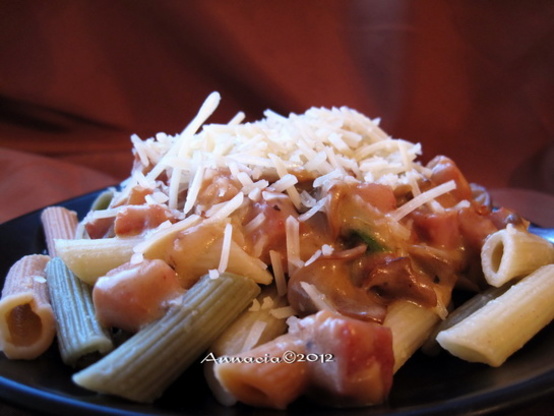 From Super Food Ideas special diets Italian feature. Timings are estimated.

This ended up being a quick and satisfying dinner. As it happens, I had some leftover rigatoni in a marinara sauce, which I used as the pasta. I also had a ham I needed to use, so chopped that up into small dice instead of using the shaved. So the dish had a pinkish tinge to it, but the flavors all worked together very well indeed. Even Mr Grumpy ate it all up, after pulling a face when I brought in dinner!
Cook pasta in a large saucepan of boiling, salted water following packet directions, until tender and then drain.
Meanwhile, spray a large, deep non-stick frying-pan with oil and place over a medium-high heat and add the ham and cook stirring occasionally for 2 minutes or until golden and then add onion, mushroom and garlic and cook, stirring for 3 to 4 minutes or until mushrooms have softened.
Add wine and cook for 2 minutes or until wine has reduced by half and then add cream, milk and chicken stock and bring to the boil.
Reduce heat to medium and simmer for 2 to 3 minutes or until sauce has slightly reduced.
Place cornflour and 3 teaspoons cold water in a bowl and stir until smooth and then add cornflour mix to cream mix and cook, stirring, for 3 to 5 minutes or until thickened.
Season with salt and pepper and add pasta and parsley, toss to combine and then serve.