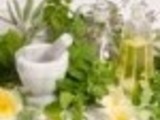 Supriya's family are from Secunderabad in the state of Andhra Pradesh. This is one of Supriya's mother's traditional recipes. I have not tried it yet but plan to very soon.
Directions
Clean and wash chicken pieces thoroughly.
Take the coriander leaves, garlic cloves and green chillies and grind to paste in the mixer.
To the above paste, add yoghurt,salt to taste and mix.
Now marinate the chicken pieces in the above marinade for 45 minutes.
In a pan add butter, when butter is hot add the cardamom), stick of cinnamon, cloves and cumin. Fry for few minutes.
Now add the chicken and cook till done under a closed lid, on slow fire.
Serve hot with chappathi or rice.
Most Helpful
Loved this, plus it's a bit different! :-) The spices really seasoned the chicken! I made a double recipe for a potluck, and I used skinless thighs, cut in half. For the peppers, I didn't know what was meant by "6 chilies" and I didn't want it too hot, so I used a small mix of fresh and canned, but my chicken didn't come out spicy at all, so next time I will use more. It did need more salt than I originally thought. Since I wanted dryer pieces for a potluck, and since I was cooking a double batch, the other review by Engrossed gave me inspiration: I did my spices in butter in a small pan, and then poured it into a large baking pan, added the chicken on top, covered tightly with foil, and baked 325 for 45 min. Then I uncovered and turned the heat up to 450 for awhile - this did the trick. Bonus - the house smelled great! I will definitely make this again!
This chicken has a very nice flavor! Here's how I made it: I used 6 split chicken breasts and the full amount of marinade. I used two 4oz cans of mild diced green chilies. I minced the garlic and cilantro but left everything kinda chunky instead of a smooth sauce. I rubbed it over the chicken breasts and put them in a large ziploc bag for about 3 hours. I then melted about 2 tbsp of butter in a 13x9 pan in my oven preheated to 350F. Then I added the spices to the melted butter and let them bake for a few minutes. Then I placed the chicken breasts on top of them and sprinkled sea salt all over. I baked them uncovered for 30 min at 350F and then 45 minutes at 425F. I basted them once. The end result was beautiful crisp flavorful chicken! I'm sure they would have been even more flavorful if they were covered and steamed in the spices below. All in all I was very happy with these and will make them again trying boneless skinless chicken breasts cooked on the stovetop. Made for PAC Spring 2007.