AlainaF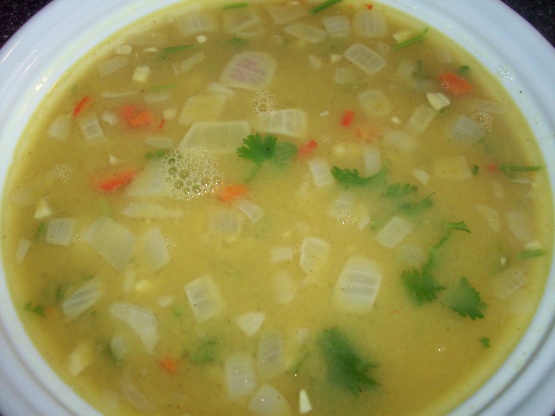 Dhal is a term traditionally used to describe a spicy dish made with lentils or other legumes. From Sam Choy's Polynesian Kitchen. (Fiji)

This is so good, and it tastes exactly like the dhal soup from my favorite indian restaurant, I'm so happy I made this! My husband however, got green split peas instead of yellow...but it didn't really matter, the taste is still the same and flavorful. I added fresh lemon juice to it, and it really brightened it up...don't be scared to add a lot. I did and it made it even better. Thanks for posting! Made for ZWT8.
Rinse split peas and place in a pot with the water.
Bring to a boil and simmer for 30 minutes, skim occasionally.
Heat the ghee in a frying pan, brown the chili and cumin seeds, then ad onion and garlic.
Saute until onions are golden brown on the edges then add turmeric.
Add spicy butter mixture to split peas, simmer for about 1 hour.
Season with salt to taste.
If the soup appears to be too thick, add more water for a medium-thick consistency.
Fold in the cilantro leaves before serving.
Serve hot.