Dhal Curry With Meat (Gosht Dhal)
ballarat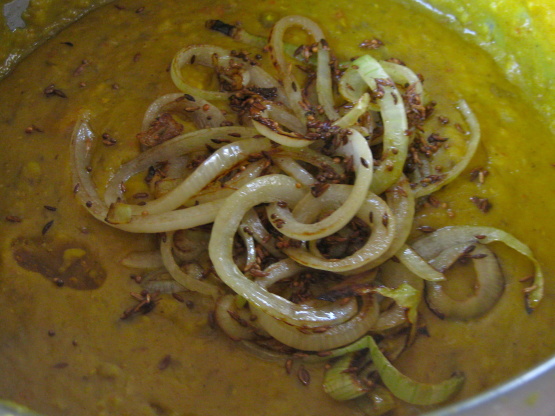 Since one of the themes on Zaar this month is comfort food I thought I would submit this. This is my ultimate comfort food. This is a dhal curry which is made with meat. Serve with rice, salads, sambals, Indian pickes and crispy spicy fried potatoes. Mmmmmhhh. NOTE: It can be made with red meat or chicken, if using chicken please remove the skin. Use the oil dhal type that you will find in most Indian spice shop preferably. If you cannot find it then use gram(chana) dhal or red lentils. But will not be the same as when using oil dhal. The second list of ingredients are the tempering spices used.

I could not find oil dhal for this recipe so had to use toor dhal. I also used chicken but would try lamb next time. The flavour was so good! We all thoroughly enjoyed this comforting dish on a cool autumn night in Sydney. There are a lot of ingredients as in any curry but the steps are simple to follow. There were one or two very minor issues and for that reason I have rated four not five stars. The recipe says it serves up to 8 people with a maximum of 400 grams of lamb or chicken. This equates to 50 grams per person - a couple of bites. I know the dish is a traditional dish that nourishes a lot of people on a small amount of animal protein but I think I would increase the ratio of meat next time. Also at step 8 where the lightly fried tempering including 3 whole cloves of garlic is added to the pot, it is unclear what happens next - stir through or just leave sitting on top? These are small issues though and I will definitely make this again. Made for spring PAC 2014.
Rinse dhal and lentils in some lukewarm water. Soak overnight if you have the time otherwise not necessary. Pour in to large saucepan cover with water, 1 tsp each of the salt and tumeric. Boil like you would do for beans until soft and mushy.
In a separate saucepan, saute onions, cinnamon stick and cumin seeds in oil till a pale gold colour .
Add meat and the spices. Stir a few times without adding water.
Gently cooking the spices, by adding water you don't give the spices a chance to cook, and then you will have a tasteless curry remember this with all Indian food.
When it starts sticking to the pot add the tomotoe and about half a cup of water.
Simmer slowly till well blended and the water has dried up.
Liquidise the dhals and add to pot and some water to the consistency you would like the dhal about a cup of water should be enough. Bring to boil and then simmer slowly till dhal is well blended in, about half an hour. Adding water if becoming to thick.
When done, make your tempering, heat your ghee in a pan add onion, cumin and mustard seeds and garlic cloves,and fry till nice golden brown. Add to pot of dhal and close lid tightly.
Just before serving add your chopped cilantro and your gharam malasa. (In Indian cooking gharam masala is always added just before serving as it is a pepping up spice. Stir and serve with white rice/roti etc.