Nohoko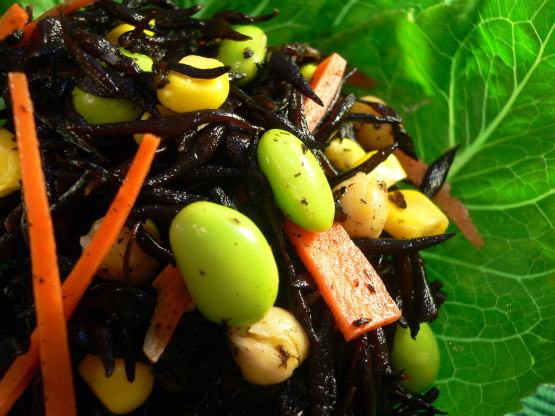 The name of this salad comes from devil food cake because of the color of Hijiki seaweed. It's black! Though it sounds scary, this salad is so nutritious. Also you can enjoy the color and the mariage of balsamic vinegar and soy sauce.

Great recipe. Healthy and fun to eat. I multiplied it by four. I did use only half the soy sauce and less ginger. I wanted something a bit more delicate tasting. I also could not understand why one would cook up the edame with their shells. Are they edible? So I shelled it before cooking. Thanks for posting
Soak hijiki seaweed in a bowl to make it soft and moist for 20 minutes and drain well.
Boil water in a small pan. Put hijiki, edamame, corn, chick bean, and carrot together into the boiling water and cook for 1 minute, and drain well.
Mix balsamic vinegar, extra virgin olive oil, soy sauce and root ginger in a bowl to make a dressing.
Pour the dressing into the vegetables and toss well.