Devil's Food Chocolate Chip Muffins
Redsie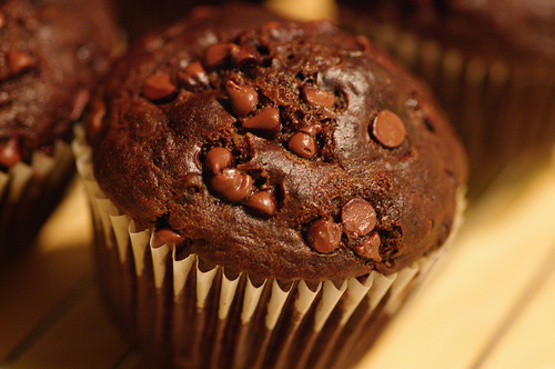 Marie Simmons; Devilishly good. For those times when you need to indulge.

These muffins are chocolatey, and not too sweet, that's what makes them delicious. Muffins shouldn't be as sweet as cupcakes. These muffins are excellent as is, although some options are to replace the chocolate chips with peanut butter chips or add some chopped walnuts to the batter.
Coat 12 muffin cups with nonstick cooking spray.
In a mixing bowl, add the flour, cocoa powder,sugar, baking soda, and salt; stir to combine.
In another bowl, add the milk, oil, eggs, and vanilla; whisk until blended.
Add the liquid ingredients and 1/2 cup chocolate chips to the dry ingredients.
Stir just until dry ingredients are moistened; be careful not to overmix.
Pour batter evenly into muffin cups.
Sprinkle remaining chocolate chips evenly over muffin batter.
Bake at 400 degrees for 20-22 minutes or until pick comes out clean.
Place pan on a wire rack to cool for a few minutes before removing muffins from pan.