vrvrvr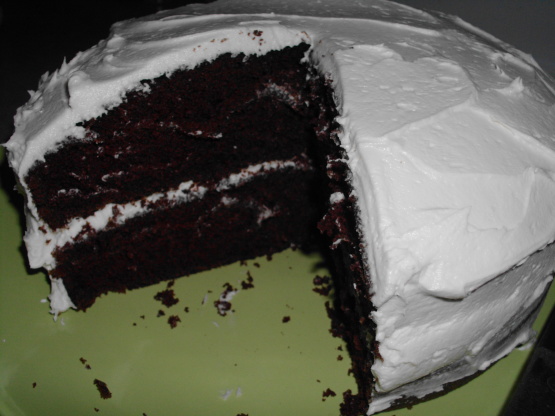 Top Review by vrvrvr
We enjoyed this cake very much. It's easy to toss together, with a good chocolate flavor coming through in the result. Moisture level was good, cakes came out of the pans flawlessly and held up perfectly under a robe of vanilla buttercream frosting. Great basic cake that went whoooosh! Gone!
Grease and lightly flour two 9x1 1/2 inch round baking pans or grease one 13x9x2-inch baking pan; set pan (s) aside.
Stir together flour, cocoa powder, baking soda, and salt; set aide.
In a large mixing bowl beat shortening with an electric mixer on medium to high speed for 30 seconds.
Add sugar and vanilla; beat until well combined.
Add eggs, 1 at a timebeating well after each.
Add flour mixture and water alternately to beaten mixture, beating on low speed after each addition just until combined.
Pour batter into the prepared pan (s) Bake in a 350 degree oven for 35 to 40 minutes or until a wooden toothpick comes out clean.
Cool layer cakes in pans on wire racks for 10 minutes.
Remove from pans.
Cool thoroughly on wire racks.
Or, place 13x9-inch cake in pan on a wire rack; cool thoroughly.
Frost with desired frosting.