Devils Food Cake/1948 Version
Calee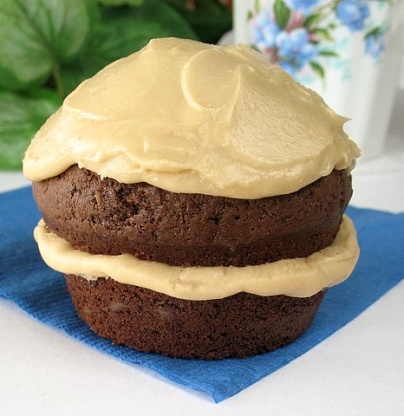 This is very moist, and takes on a bit of a red hue after cooling. You may use your favorite icing, the icing listed is my favorite, quick and tasty.

I use 1/2 c. cold, STRONG, coffee instead of water, and instead of 1/2 c. cocoa I add 3/4 c. If you don't have buttermilk you can sub with 3/4 c. milk plus 2 t. lemon juice or vinegar that sits for 10 minutes before using. Make this with Sprinkles Vanilla Buttercream frosting and it is perfect for a birthday.
Mix water, cocoa and baking soda, let stand while preparing the rest of the ingredients.
Cream butter and sugar, beat in eggs, add half the flour and half the milk beat well.
Add the cocoa mixture and remaining flour and milk and vanilla.
Bake in two greased and floured cake pans, at 350°F for 30 minutes or until cake tests done.
Frost with icing:2 cups powdered sugar, 1 tsp vanilla, 1/2 to 3/4 cup milnot.
Beat milnot canned milk into powdered sugar a little at a time until spreadable; add vanilla.