CIndytc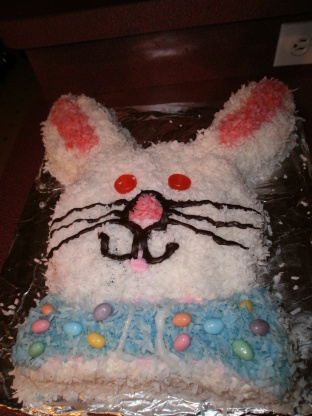 I've been making this cake since 1972. In fact I made it for my youngest sister when she about 5, she's 40 this year! I dug the recipe out this year and made it for our grandchildren, hubby ate most of it though. You can always just use a cake mix and frosting to save time.
1 3⁄4 cups cake flour, sifted

1

teaspoon baking soda
3⁄4 teaspoon salt
1 1⁄3 cups sugar
1⁄2 cup butter

1

cup milk

1

teaspoon vanilla

2

eggs

3

unsweetened chocolate squares, melted
4 1⁄2 cups white seven minute frosting
1 1⁄3 cups coconut

1

drop red food coloring
green food coloring
assorted large gumdrop
red licorice, strips
Sift flour with soda, slat and sugar.
Soften butter.
Add flour; beat 2 minutes at medium speed.
Add vanilla, eggs, chocolate, and 1/4 cup milk.
Pour into 2 9-inch layer pans, lined with wax paper, (or greased and floured).
Bake 350 for 30 to 35 minutes. Remove and cool on racks.
Cut one of the layer cakes in half round spade to make a bow tie and two ears.
Frost entire cake. Tint 1/4 cup coconut with red food coloring. Sprinkle this coconut in the center of the ears.
Use gumdrops for nose, eyes and polka dots on tie, and red licorice strips to make a mouth and whiskers.
If desired, sprinkle additional coconut , tinted green, all around the bunny.