Demelza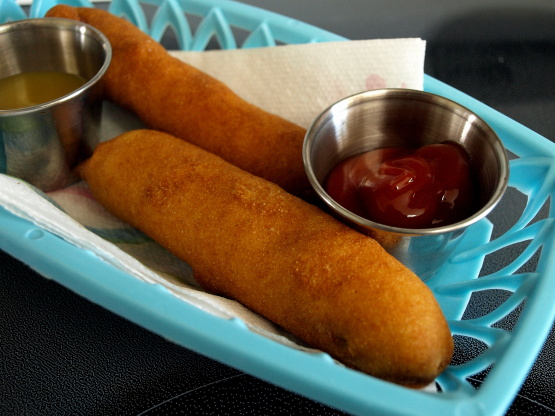 I got this recipe from Favorite Recipes of America - Meats Edition from 1961. These are my family's favorite corn dogs

I made these for the kids for lunch today. They were great! I used chicken hotdogs instead of beef. My batter was really thick, but coated the hotdogs very nicely. I found it easier to use a pie plate to put the batter in & coat the hotdogs. They cooked up wonderfully. I was able to make the whole package of 12 hotdogs up. My deep fryer is up at the cabin, so I had to heat the oil in a pot on the stove. Next time I make them I will make sure to bring the deep fryer home, or make them outside using the side burner on the BBQ. Move over Pogo's it is Devil Dog's from now on! Made for PAC Spring 2011. Thanks for posting this Connie Lea. Update Jan 24, 2012, I just made these again tonight & they turned out wonderful, even tho I didn't have any eggs. I added a couple of tablespoons of sourcream & it worked fine. I used celery salt instead of plain salt this time as well. I had some batter left so I threw in some kernel corn, a little extra flour & made corn fritters as well. Thanks again Connie Lea.
Put hot dogs in warm water to keep warm until ready to use. I use all beef hot dogs.
Mix dry ingredients and cut in butter.
Mix egg and milk together.
Stir into dry ingredients until well mixed.
Dry hot dogs, roll in a dusting of flour.
Dip hot dogs into mixture - it's easiest if you put the mixture into a tall glass.
Deep fry in hot oil (375%) until browned.
Leftovers may be frozen - reheat in 400 degree oven for 10 minutes.