I'mPat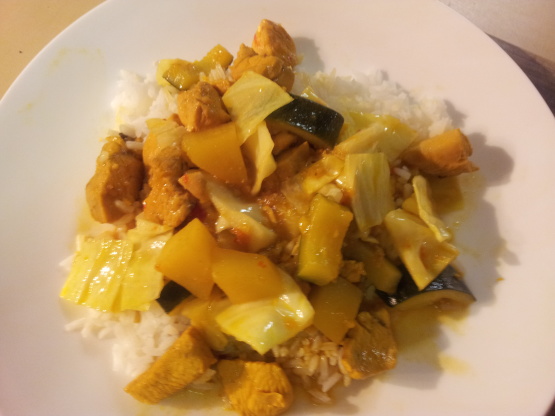 This curry is devilishly hot, with a slight sweet and sour flavor. This dish also tastes best when made the day before. It's a great curry if served immediately, but the flavor really deepens after 24 hours in the fridge. Prep time includes marinating time and time spent soaking the dried chili peppers.
Over the weekend I made this traditional Singaporean dish called Devil Cos, a delicious spicy curry stew and shared it with my friends Tom, Julie and Sophie. It was a big hit! :) Fearing the dare and warning in the first paragraph of the recipe, I only included half the chilies that were prescribed and carefully removed the hot white spleens from each chili. The heat turned out just right and the fresh pineapple spears on top added a nice sweetness to it all. Mechanically, I ground the spice mixture in my Blendtec mixer a little at a time and adding water. I sautéed everything the best I could yet substituted virgin olive oil for the canola oil. After each sauté, I transferred the contents into two large Dutch ovens (I made a double recipe). As the previous reviewer suggested, I cooked the potatoes a lot longer… actually, after putting all the ingredients in the two pots, I let it simmer, with a lid on them, all night Y'all likely know this yet the recipe did not say when to add the fresh pineapple spears. I served them cold, on top of each bowl of Devil Cos. After dinner we played a classic Italian card game… Scopa! Bob Brett Olympia, WA
1 1⁄2 lbs chicken breasts, cut into chunks

2

tablespoons soy sauce

2

teaspoons rice vinegar

2

teaspoons sugar

6

dried chilies, seeded, sliced, and soaked in hot water until soft (about 30 minutes)

2

habanero peppers, seeded and chopped

5

shallots, chopped

6

garlic cloves, chopped

2

tablespoons ginger, chopped

4

macadamia nuts
1 1⁄2 teaspoons ground turmeric

2

tablespoons olive oil

2

cups water

2

potatoes, cut into bitesize chunks
1 1⁄2 teaspoons palm sugar

2

tablespoons vinegar

2

zucchini, halved lengthwise, seeded, and cut into chunks
1⁄2 napa cabbage, cut into bitesize squares

1

teaspoon ground mustard
In a large bowl, mix together the chicken, soy sauce, rice vinegar, and sugar. Leave to marinate for at least 30 minutes.
In a food processor, combine the dried chili peppers, habaneros, shallots, garlic, ginger, macadamia nuts, & turmeric. Pulse until you have a spice paste.
Heat the oil in a heavy pan over high heat. Add the spice paste and fry until fragrant, about 2 minutes.
Toss in the chicken AND the marinade, and stir until the chicken begins to brown. Keep cooking and stirring for 3 minutes, then pour in the water.
Bring to a boil and add the potatoes, vinegar, and palm sugar. Reduce the heat, cover, and simmer for 15 minute, or until the potatoes are tender.
Add the zucchini and cook for 2 more minutes, then stir in the cabbage and ground mustard. Once the cabbage has wilted a bit, the curry is done.