Deviled Oven-Fried Chicken
Pam-I-Am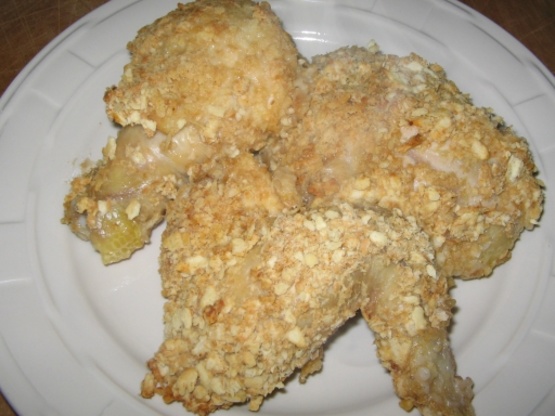 Tender, juicy, and flavorFULL! When I cook for guests I'm known for making too much. I made this for a party of 30 and it disappeared before I knew what happened! The original recipe in the "Live Longer Cookbook" by Readers' Digest calls for a mixture of butter and olive oil to be drizzled on top. This dish doesn't need it to to be fabulous.

I wanted to try an oven fried chicken recipe using saltines for a change. I thought it was very tasty. I'm not sure where the 'deviled' comes in for the recipe title. I didn't taste the dijon mustard at all. Maybe increasing the amount would help that. Couldn't taste the red pepper either. Maybe adding it to the cracker mixture instead? Just FYI for others, I used about 1 whole package (1/4 of a box) of crackers (crushed) to cover 1/2 a chicken cut up. The crumbs really stick the the buttermilk so my pieces were using it up fast! I also sprayed the top of the chicken pieces with spray oil instead of drizzling with butter/oil. They browned fine.
In a large bowl, combine the buttermilk, mustard, garlic, and red pepper.
Add the chicken pieces, cover and let them marinate in the refrigerator for at least 30 minutes or as long as overnight.
Preheat the oven to 375 degrees F.
In a shallow bowl, combine the crumbs, cheese, sage, and rosemary.
Dredge the chicken pieces in the crumb mixture and place them on a rack in a baking pan.
Bake for 40-45 minutes or until the juices run clear when the chicken is pricked with a fork.
If desired, place under the broiler for 1-2 minutes or until golden.