Deviled Ham & Egg Casserole
Parsley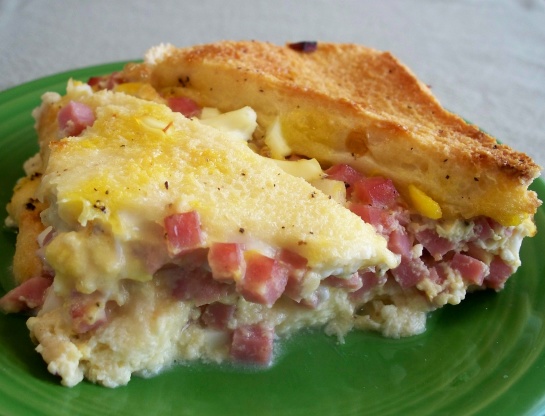 Came across this recipe today. Sounds good.

Great breakfast/brunch casserole. I made this as written. The flavor was good but very mild. You really couldn't detect the horseradish or mustard too well. When I make this again, I will double the horseradish and mustard and probably add some chopped scallions, too. Thanx!
Trim crusts from bread, cut bread in half diagonally. Toast crusts until lightly browned. Place crusts in a greased casserole dish.
Combine ham, hard cooked eggs, horseradish and mustard, spoon mixture over crusts.
Arrange toasted bread slices over ham mixture.
Mix together beaten eggs, milk, salt and peper, pour over toasted bread slices.
Refrigerate at least 1 hour to allow the bread to absorb the liquid.
Bake 325 degrees for 1 hour or until set.