Axe1678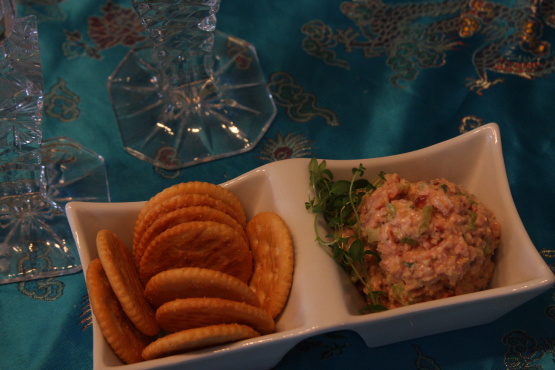 Another from F & W to use as a dip, cracker topping, or sandwich filling. Yum!

I gave this 5 stars even though I did make some changes, because the recipe was very well written, instructions were clear and easy to follow. Hey, it's not your fault I didn't have all the stuff to make it as written, is it? Besides that, it tasted very good. Well, I finally had some ham (turkey ham, we don't eat pork) and green onions at the same time, to try this with, but I did have to change a couple things: I used yellow mustard as that's all we ever have, and I could not FIND my tarragon, even though I know I bought some (aarrgghh!) I only used one dash of hot sauce, as I was planning on feeding this to my kids, and DangerBoy is not into hot things so much. I gave my husband some of it right away, on a cracker. His response? "What's that?" I told him it was Deviled Ham. He said it's nothing like the canned stuff which he remembered liking although it's been a while. He said it was good, just completely different than what he'd had before. The kids and I liked it as well. We had it as a sandwich spread for lunch the next day. Very good - this one's a keeper! Thanks, Ginny, for sharing this one. (I'll bet it's even better with the tarragon and the creole mustard - maybe I'll pick some up if I can find it)
In a food processor or blender, pulse the ham until finely chopped.
Add the green onions and process to blend.
In a medium bowl, mix the sour cream and mustard.
Fold in the ham, celery, tarragon, and cayenne.
Season with salt and black pepper.
Add a few dashes of hot sauce and set aside for about 10 minutes before serving.