lets.eat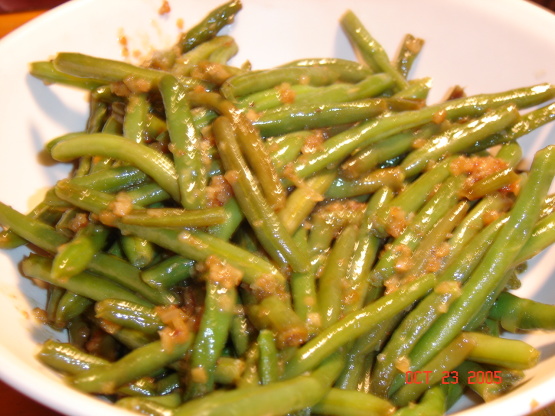 My family really enjoys this recipe. It came from the newspaper!

GREAT RECIPE--I 'LOVE' GREEN BEANS--WITH BACON FLAVORING--& THE 'OTHER' INGRED. ONLY 'ADD' TO THE RECIPE! Thank you sooo much! :) Have a good day!
Boil green beans in 2 cups of water for approximately 6 minutes or until beans are just tender.
Drain beans, reserving 3 Tbsp cooking liquid.
(This may be done ahead.) Refrigerate until ready to finish.
About 15 minutes before serving, warm the bacon grease or olive oil in a pan over medium heat.
Add onion and cook just until softened.
Whisk together the reserved cooking liquid, mustard, soy sauce and brown sugar.
Add to the onions and stir.
Add the beans and stir to coat.
Cover and simmer on low for 10 to 12 minutes, stirring occasionally.
Taste and add salt if needed.