Lorac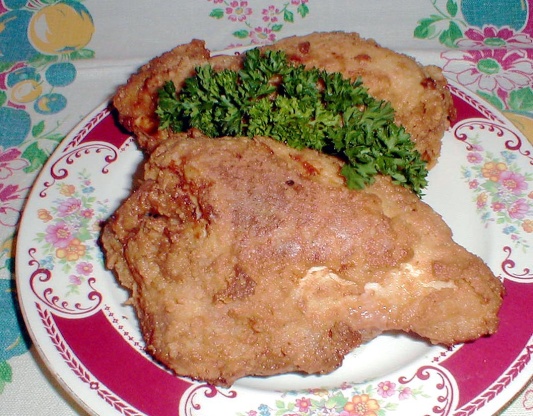 If you like fried chicken this one is excellent and well worth the time to make! The chicken has to marinate in the buttermilk so you can start it a day or two ahead. this recipe comes from Bon Appetit, 1998.

I made this recipe this weekend and followed the recipe to the T. I gave the recipe 3 stars only because the chicken turned out very moist, which I find is the case any time I marinade in buttermilk. Unfortunately, we did not share the enthusiasm others had on this dish. My DH actually asked me If I had forgotten to season the chicken. We thought it to be bland. Sorry, maybe it's a Texas thing but we like our dishes seasoned and I thought it would be hot but we couldn't taste it. Ended up tossing it. Sorry, again obviously a difference of opinion and taste.
In 1-gallon resealable plastic bag, mix buttermilk, Dijon mustard, 1 tablespoon onion powder, 1 teaspoon salt, 1 teaspoon dry mustard, 1 teaspoon cayenne and 1 teaspoon black pepper.
Add chicken pieces.
Seal bag, eliminating air.
Turn bag to coat chicken evenly.
Refrigerate at least 1 day and up to 2 days, turning plastic bag occasionally.
Whisk flour, baking powder, garlic powder, remaining 1 tablespoon onion powder, 4 teaspoons salt, 3 teaspoons dry mustard, 3 teaspoons cayenne and 1 1/2 teaspoons black pepper in 13 x 9 x 2-inch glass dish.
With marinade still clinging to chicken pieces (do not shake off excess), add chicken to flour mixture; turn to coat thickly.
Let chicken stand in flour mixture for 1 hour, turning chicken occasionally to recoat with flour mixture.
Pour oil to depth of 1 1/4 inches into deep 10- to 11-inch-diameter pot.
Attach deep-fry thermometer.
Heat oil over medium-high heat to 350°F.
Add 4 pieces of chicken, skinned side down, to oil.
Reduce heat to medium-low and fry 5 minutes, adjusting heat to maintain oil temperature between 280°F and 300°F (oil should bubble constantly around chicken).
Using wooden spoons, turn chicken over.
Fry 7 minutes.
Turn chicken over again.
Fry until deep golden brown and cooked through, about 3 minutes longer.
Using same spoons, transfer chicken to large rack set on baking sheet.
Reheat oil to 350°F.
Repeat frying with remaining 4 pieces of chicken.
Serve chicken warm or at room temperature within 2 hours, or chill up to 1 day and serve cold.
Serves 4.