Prep 15 mins
Cook 30 mins

This is an original recipe based upon tradition, with a twist. I was inspired by a recipe I found on Recipe Zaar that included fresh basil.
Directions
Place eggs in pot and cover with water. Bring to a rolling boil. When the water reaches the boiling point, turn the flame off and put a lid on the pot and set aside for twenty minutes.
Peel and discard all of the egg shells. Take 3 of the eggs and remove the yolk and discard the whites. With the remaining hard boiled eggs carefully slice through the eggs length wise and remove the yolks.
Place all the yolks in a bowl. Finely chop parsley and add all the ingredients to the egg yolks, then combine well with a fork. Consistency should be smooth, add olive oil if needed and taste for seasoning. Transfer egg yolk mixture to a plastic bag, maneuvering to one corner of the bag, twist the excess of the bag pushing the yolks down to the corner.
With scissors snip a small opening in the corner of the bag. Fill the egg white halves with the yolk mixture.
Garnish with finely chopped scallions or parsley.
Reviews
Most Helpful
Took these when we had dinner at a friend's house & they were a big hit! I especially like the inclusion of lemon zest in these, & I'll definitely be making them again! This is a great keeper of a recipe! Many thanks for sharing it!Made this especially for my vegetarian son & DIL & it was a big hit with all of us!
The lemon really brightened up these eggs. It was the first time I'd made deviled eggs and they were actually easier than I thought - I just had to be super careful getting the yolks out as I can be a little clumsy - I only broke one half of an egg, but that just meant I could eat it!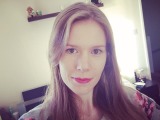 Yummy deviled eggs! I really liked the addition of the lemon; the flavor was subtle but really brightened the taste of the eggs. Thanks for sharing your recipe!