lazyme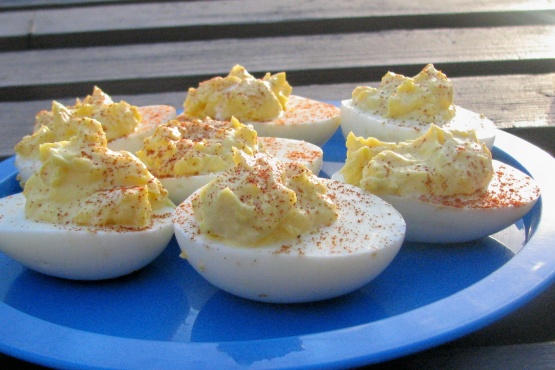 This old favorite is always snapped up at any luncheon, buffet dinner or backyard party. So-o good! A good variation on this is to eliminate the cayenne and add a bit of prepared mustard to mix, then top each egg with paprika and a slice of stuffed green olive. For those of you who might like caviar, you can use red roe in the mix and it's delicious.
Along with dry mustard powder, I added 1 tsp worcestershire sauce, a pinch of celery salt in place of salt, a pinch of garlic powder and a thinly sliced stuffed olive to top each egg....You won't be able to eat just one!
1⁄4 onion, finely minced
sweet pickle relish or dill pickle relish
mayonnaise, to bind
cut eggs lengthwise, scoop out yolks, place in bowl.
add onion and sweet or dill pickle relish.
add mayonnaise to bind, plus salt.
mix well and finally add a pinch of cayenne-- go easy!
cover and refrigerate until time to eat.