Nimz1466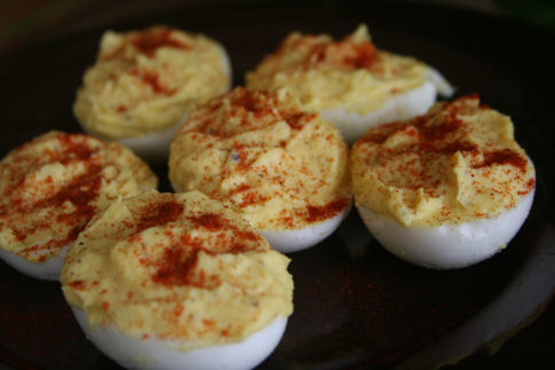 Every family gathering included a relish tray filled with food that was never seen at any other time of the year. Pickled eggs, sweet Gherkin pickles, pimento stuffed olives, and even heart of palm. Most of this seemed to be enjoyed most by my great aunts, with the one exception of mom's deviled eggs. This is still a treat that I'll grab up lickety-split at any pot luck meal.
Peel eggs, cut lengthwise, and empty yokes into a flat dish for mashing.
Add 3/4 teaspoons mustard, 2 tablespoons vinegar, and 1/3 cup mayonnaise, or any amount that suits your taste.
Put back into the egg white shells and sprinkle with paprika. Chill.
For EGG SALAD, chop up desired amount of eggs, add some mayonnaise, pickle relish, celery, whatever, salt and pepper. Use for sandwiches.