Thorsten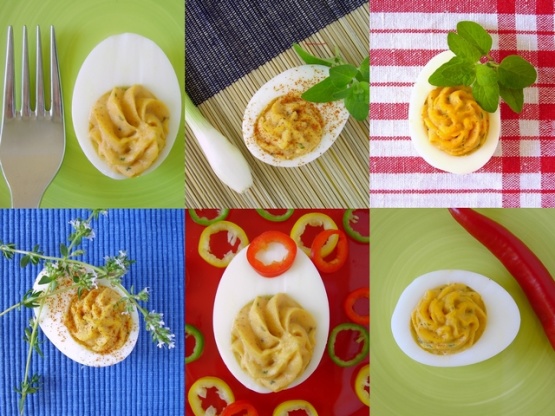 I gave these a tasty SW twist. Hope you like them.

We liked your tasty SW twist & our Post-Thanksgiving dinner guests did too. Miracle Whip is not imported to Iceland, so I used reg mayo + my supply of Recipe #118154 by Miss Annie. Served as part of a combo starter plate w/an international flavour & joined by Recipe #271457 by **Jubes** + Recipe #315903 by French Tart, it was well-received. It is fun to do things like this here in Iceland for our friends as they often do not know about delicious & primarily U.S. foods that we take for granted as commonplace cuisine. Congrats on your Wk 12 Football Pool win & thx for sharing this recipe w/us. :-)
Slice eggs in half the long way and scoop out yolks into bowl.
Beat yolks with mixer on low speed to crumble into tiny pieces. Makes a smoother filling.
With a spoon mix in remaining ingredients and spoon or pipe into depression in egg white halves.
Garnish with salt and pepper and a sprinkle of paprika if you like.
Serve cold.