Deviled Egg Stuffed Avocados!
2Bleu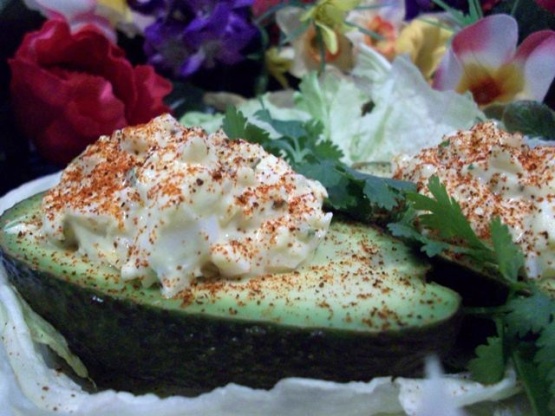 I wish I'd thought of this! This really works! The original recipe has it on a bed of red cabbage slaw, making a strong citrus component. I have posted this too, but feel free to just do the stuffed avocado. Adapted from License to Grill by ChrisSchlesinger and John Willoughby.

I'm normally not a betting woman, but today I bet my husband I could have this made and photo-ed within 45 minutes. To up the ante, I boasted that the kitchen would be cleaned and I'll even mop the floor. He eyed me warily, wondering what was it I wanted and finally agreed that it was 'on'! I swooped in my kitchen, flinging pots and chopping boards over my shoulder with moves looking more like Jackie Chan. Let me conclude that I have 'won'...and BIG! My husband swears that he will no longer be lured into a betting situation with me. Whatta sore loser! Made for PRMR.
Place the eggs in a small saucepan and cover with cold water. Bring water to a boil and reduce heat to low. Simmer for 12 minutes. Drain and run under cold water to stop the cooking.
Peel the eggs and put them in a medium bowl. Add the relish, mayonnaise, chipotle, celery, cilantro, and salt and pepper to taste. Mash together with a fork until the mix is pretty uniform. Stuff 1/4 of the mixture into the center of each avocado half and set aside.
If you want to make tortilla chips:.
In a large saute pan, heat the olive oil until hot but not smoking. Put a tortilla in the pan and fry, turning once, until just crisp and lightly browned, 1-2 minute. Remove to paper towels to drain and repeat with remaining tortillas. Break the tortillas into chips.
If you want to make slaw:.
In a large bowl, combine all the slaw ingredients and mix well. Place the slaw on individual serving plates and top with the stuffed avocado halves. Serve, passing the tortilla chips separately. Enjoy!