IngridH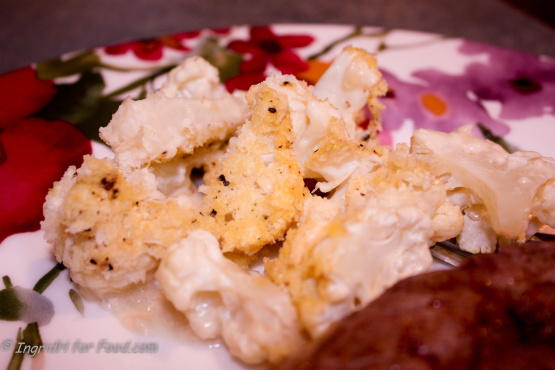 This was really good! I loved the flavors that the mustard and Worcestershire bring, it's not just a plain bechemel sauce... it has a lot of flavor. I did skip the blanching of the cauliflower- I just microwaved it for about a minute before putting it in the baking dish, (I don't like mushy vegetables), so it would retain the crisp texture. A great new way treat an old friend, thanks for posting!
Place cauliflower in a steamer basket over boiling water.
Cover pan and steam 5-7 minutes or until just tender.
Drain.
Rinse under cold water.
Drain well and transfer to a 9x13 inch baking dish.
Combine 1-1/4 Tbs.
melted butter with flour in a heavy saucepan over medium low heat. Whisk about 3 minutes, or until bubbly.
Gradually whisk in milk.
Add bay leaf and nutmeg and whisk often until mixture simmers.
Cover partially and simmer 3-4 minutes, stirring often, until thickened.
Remove from heat. Stir in mustard, Worcestershire and salt and pepper to taste. Discard bay leaf.
Pour sauce over cauliflower and stir until well coated.
(Can be prepared 1 day ahead. Cover and chill.)
Preheat oven to 3500F.
Sprinkle breadcrumbs over cauliflower.
Drizzle with remaining butter.
Bake 35-40 minutes, until cauliflower is heated through, sauce bubbles at edges and breadcrumbs are golden.