Deutsches Beefsteak (German Beefsteaks)
BecR2400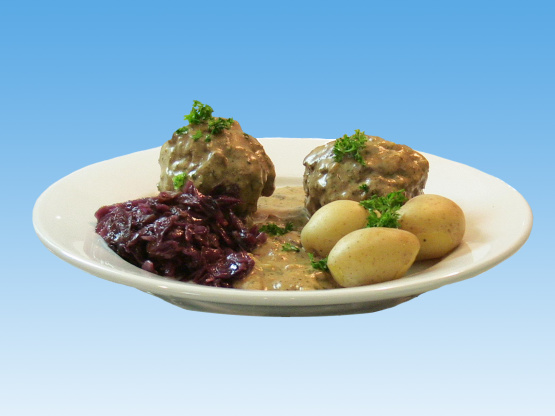 Lovely recipe! These German Beefsteaks remind me of German Frikadellen (meatballs). I followed the recipe exactly, except for a couple changes as I needed to use up what I had on hand. I tripled the recipe, adding in one lb. ground pork to 2 lbs. ground beef. Pork takes a bit longer to cook than beef, so after browning the beefsteaks, I boiled them for about 30 minutes in a rich chicken stock.. I thickened the stock with flour and added in sliced fresh mushrooms, chopped parsley, Hungarian paprika, mace, allspice, dill, salt & pepper, lemon juice, red wine vinegar and sour cream, which made a delectable gravy . Served with my Braised Red Cabbage and boiled new potatoes. This made a very enjoyable meal! Thank you Woodland Hues, for this fine German recipe that I will be sure to make again!
In a small bowl soak roll in water.
Heat 2 T vegetable oil in a fry-pan; cook chopped onion until lightly browned.
Transfer onion to a bowl.
Squeeze roll as dry as possible and mix roll with onion.
Add ground beef; blend well.
Season with salt and pepper.
Shape meat into 4 patties; cook about 5 minutes on each side or to desired doneness.
Remove and keep warm.
Add sliced onions to pan drippings; cook until lightly browned.
Arrange beefsteaks on a platter and top with onion rings.