Dani O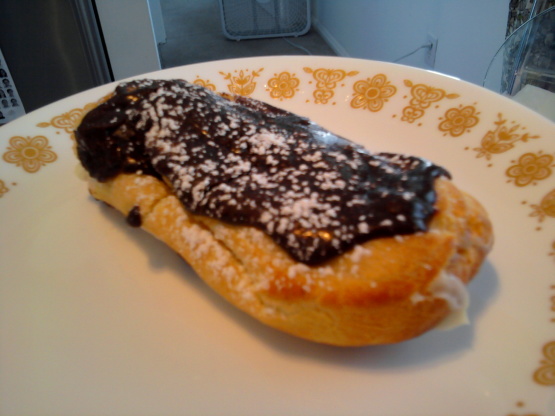 This pastry becomes hallow as it bakes. They're great filled with custard, fresh fruit (crushed strawberries), ice cream... and so easy to make. The recipe is adapted from Paula Dean's chocolate stuffed eclair recipe... modified to suit our sweet tooth. Enjoy!
1. Bring the water to a boil in a large pot over the stove. (You'll be adding the rest of the ingredients to this pot.).
2. Add the butter and allow it to melt completely.
3. Turn off heat and mix in flour and sugar, followed by eggs and vanilla.
4. Transfer dough into pastry bag (or plastic sandwich bag with 1/4 inch cut off bottom corner).
5. Squeeze dough onto well greased cookie sheet. Form thick lines or dots.
6. Bake 20-25 minutes at 395 degrees. Watch for the top to tan. They should be light brown for the best texture.
7. Wait to cool before filling and/or frosting.