alligirl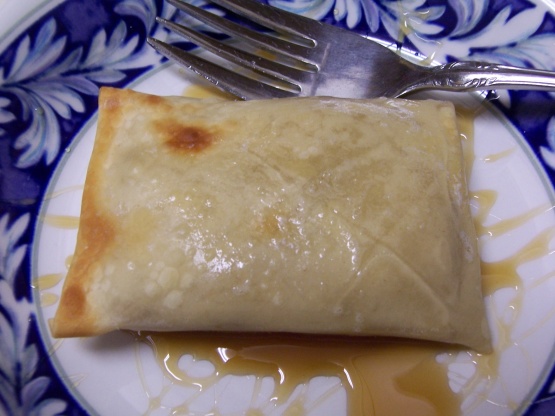 This is such a delightful dessert and looks so good when served. I really impressed the guys at deer camp with this one. I could only approximate the prep time and cook time.

These were tasty! I'm not sure if I did the 'rolling' right, but mine were like little purses or envelopes. I followed other reviewers who used Pam, but, may try the butter next time. I also sprinkled with some vanilla sugar, which I happened to hve on hand. Mine did not crisp up the way I would have liked, but that may have been my fault. I will make them again, as they are unlike any I've had before! Thanks for sharing, ~Nimz~! Made for ZWT 6.
Filling

3

lbs tart green apples, peeled,cored,sliced thin
1⁄2 cup sugar, plus extra for sprinkling
1⁄2 cup apricot jam

2

lemons, zest of, of grated
freshly grated nutmeg

1

cup chopped and toasted walnuts
1⁄2 cup unsalted melted butter
1⁄4 cup apple juice

1

package egg roll wrap
caramel sauce
Place apples, apple juice, sugar, jam, zest, nutmeg, and apple pie spice in a large heavy skillet Cook over med-high heat, covered, until apples are tender, about 10-15 minutes Stir in walnuts and taste and adjust seasonings.
Place several tablespoon of filling at an angle in the center of an eggroll wrapper.
Roll up like an envelope Lightly moistening edges with water to seal Place seam-side down on buttered baking sheet.
Repeat until all filling is used Brush tops with melted butter and sprinkle with sugar.
Place under hot broiler until golden about 3-5 minutes To serve: Place caramel sauce into individual dessert plates and place egg rolls on top.