Desert Island Green Salad
Pam-I-Am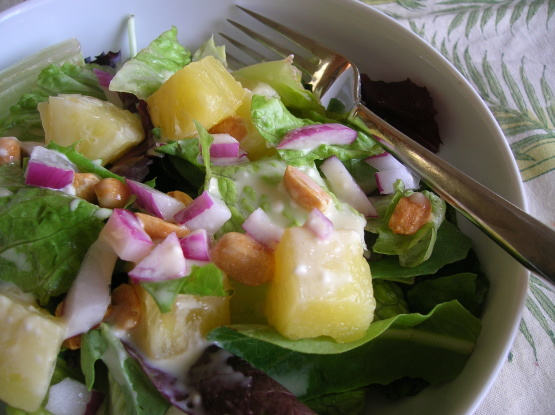 A very simple salad with unique ingredients and a dressing that pulls it all together. When I'm all out of "standard" ingredients (i.e. salad veggies), it forces my creativity to surface or go hungry!

I only made the dressing and improvised on the salad but it was delicious! I ran out yesterday and need to get to the store for more mayonaise. Great dressing for the upcoming summer months!!! Thanks!
Wash, dry and break apart lettuce in a large bowl.
Sprinkle with pineapple, peanuts and red onion.
Set aside and make the dressing by mixing all of the dressing ingredients together in a bowl or shaker.
Serve dressing with salad.