Bergy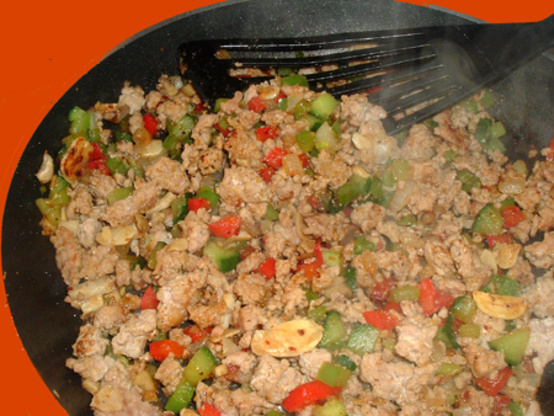 Nice tingly mix wrapped in crisp cool lettuce. Lovely light supper.

Fabulous! I've made this twice now. I didn't use the cheese, and on the second go-round added a cup of cooked bulgur for some whole-grain fiber, and doubled the sauce. It didn't change the flavor at all, but added a little more nutrition. We were kind of awkward with the lettuce leaves (used romaine), but it was so worth it! This is really delicious. Thanks for posting!
Spray a large nonstick frypan with veggie spray, add ground beef, onion and garlic.
Cook, breaking up any large pieces of beef, until onions are soft and beef almost cooked through, about 5 or 6 minutes.
Add cucumber, green pepper and red pepper,cook another 5 minutes.
Add soy sauce, oyster sauce seasoned salt and sambal oelek, mix well and simmer until reduced by half.
Place two tablespoons mix on lettuce leaf, roll and serve sprinkled with parmesan cheese, if desired.