katia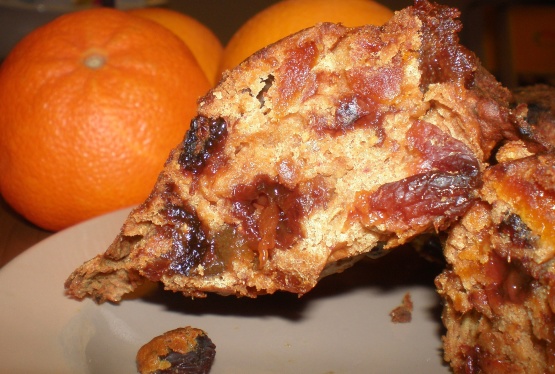 Similar to mandabears' Thisbe Fruit Loaf, this cake looks like it would be a welcome addition to a Sunday brunch. I have not tried this one yet but plan to soon. Submitted for the UK leg of the Zaar World Tour.
Perfect cake, very easy to make and full of different flavors and textures. Last time I have added grated ginger, lime zest and lime juice, and it really added the new dimension to the recipe, and in hindsight I think that the original recipe needed some added acidity.
Put the dried fruit and the sugar into a mixing bowl, add the hot tea and leave to soak overnight.
The next day, preheat oven to 300 degrees.
Spray and line a 7 inch cake pan or a loaf pan.
Stir the egg, flour, spices and the marmalade into the fruit, sugar and tea mixture. Pour into the cake pan or the loaf pan.
Bake for 1 1/2 -2 hours until firm to the touch or until a skewer pushed into the cake comes out clean. Do not open the oven during the first hour of baking time.