Ms B.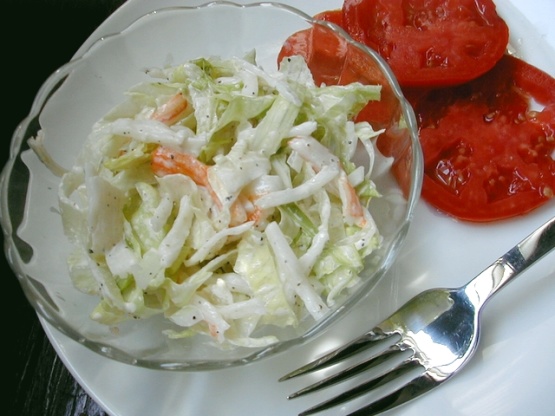 This was fixed by my grandmother every Thanksgiving and was my favorite dish. It was a dish her family made during the depression, crab must have been prevalent then. Very simple to make with only 4 ingredients. My niece that hates onions even loves this. My measurements are not exact because I just throw it together, you may need to adjust it some. Wouldn't be Thanksgiving without it in our family.

Top Review by Ms B.
This is a very tasty salad. I downsized this to only one serving and used imitation crab and much less mayo. I was in the mood for a sandwich for my lunch and toasted a whole wheat sandwich bun, added a slice of garden tomato, and a big scoop of this salad. It was a very good sandwich with the sweetness of the crab and the crunch of the lettuce balanced with the juicy tomato.
In large bowl add shredded lettuce in 1/4-inch strips the thiner the better, but not too thin.
Dice onion and add to bowl. You can use less or more onion, but it has to have onion. I often add more depending on the hotness of the onion.
Chop crab and add to bowl, sometimes I add more crab.
Rule that I generally use is for every head of lettuce, I use at least 4 oz (or more) of crab and 1/2 of an onion.
Add 1 cup mayonnaise to bowl toss, add rest of mayonnaise by 1/2 cup tossing well after each. You may not need it all depending on the size of your heads of lettuce.
Salt and pepper to taste. This requires a lot of pepper you should be able to see the little black dots.
Left over this is good it seems to marinate and become even better.