Denver Sandwich, Thick and Hearty
Chef Dee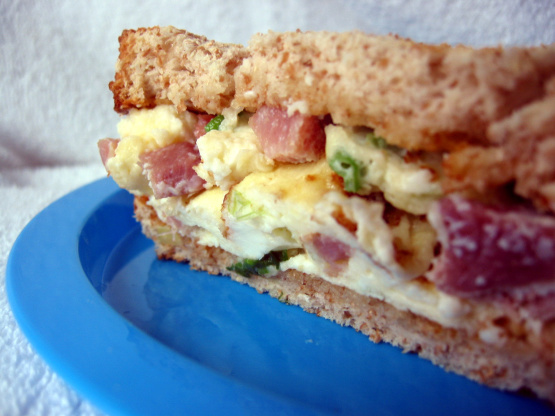 An old standby, you can quickly whip this up for breakfast, lunch or supper.

This is the Denver Sandwich I remember from childhood. Growing up in the Midwest during the '60's this was a standard offering on most, if not all cafe and coffee shop menus. As other reviewers suggest, you COULD add cheese, but the sandwich we grew up with was served without. Thanks for the great recipe and the memories Chef Dee !!
With a whisk, beat the eggs, milk and melted margarine.
Add the ham and green onions, stirring until blended.
In a heavy frying pan, melt the 2 tablespoons of margarine.
Pour the egg mixture into the pan, continuously stirring while pouring.
Cover the egg mixture and cook over med-high heat, for about 3-5 minutes. then remove the cover.
Run a spatula around the edges of the pan to loosen the eggs.
If there is still a lot of uncooked egg on top, poke through, allowing the egg to run to the bottom of the pan.
When semi-set, cut the egg into quarters and flip each piece over.
Continue cooking until set.
If desired, top with cheese slices.
Remove from heat, cover.
Toast the bread, butter and make 2 hearty sandwiches.
Serve with tomato soup or fries for a lunch or supper meal.