'Denny's' Vegetable Beef Barley Soup
dicentra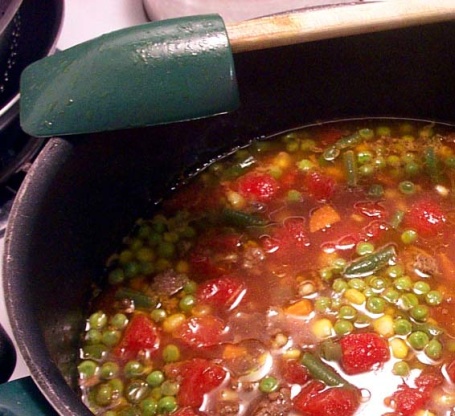 This easy to make soup is VERY close to the vegetable beef barley soup they serve at Denny's.

A nice basic soup recipe that needs more seasoning. I added onion and garlic to the ground round, V-8 juice, and more barley. These additions were nice but the soup is still a bit bland tasting. Close to Denny's soup but not quite there.
1⁄2 lb ground beef
1⁄2 bag frozen mixed vegetables (You know, the kind with the carrot cubes, and green beans, and lima beans, etc.)
1⁄4 cup barley (approximately)

1

(32 ounce) can beef broth

1

(14 ounce) candiced tomatoes
Brown ground beef, add vegetables, tomatoes, barley, and broth.
Salt and pepper to taste.
Let it simmer for at least 30 minutes.
This is great for a crock pot, as the longer it cooks, the better it is.