Denny's-Style French Toast
Ashley Cuoco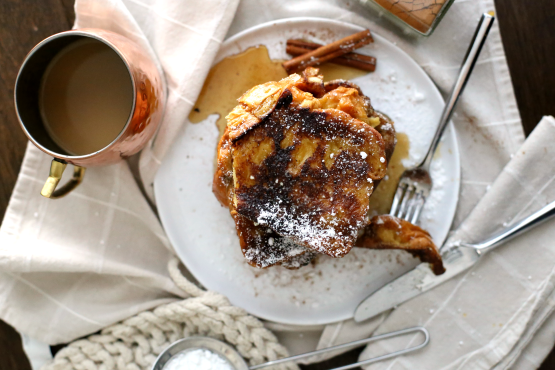 I do not remember where I got this recipe, but my husband says it tastes just as good as what he had at Denny's. I am just amazed at all of the great reviews on this recipe!! My family loves it, so I thought I would share it here and I'm so glad I did because it seems you all love it just as much!!! Thanks to all of you who have tried it!

First, and foremost, this recipe ROCKS!! Secondly, I have noticed a good bit of people are having issues with lumps or floating cinnamon. Best advice I can give, after experimenting with a few ways of doing it, is to mix your dry ingredients first. Followed by your milk, but like a third of it at first to get it wet. Add yours eggs in last. This should help get things well on their way with way less lumps. Enjoy!
Mix together the eggs, milk, flour, sugar, vanilla, salt& cinnamon.
Heat a large skillet, or griddle.
When the skillet is hot, add 1 tablespoon butter.
If the butter smokes, your pan is too hot; turn down the heat.
Dip each slice of bread into the batter for 30 seconds on each side.
Let some of the batter drip off, then put in skillet.
Cook each slice 1 1/2-2 minutes per side until each side is golden brown.
Add more butter, if necessary, to cook all of the slices.
To serve, put on plate, dust with powdered sugar. Serve with butter & hot syrup.