Denmark Delight Grilled Cheese With Crispy Bacon
Rita1652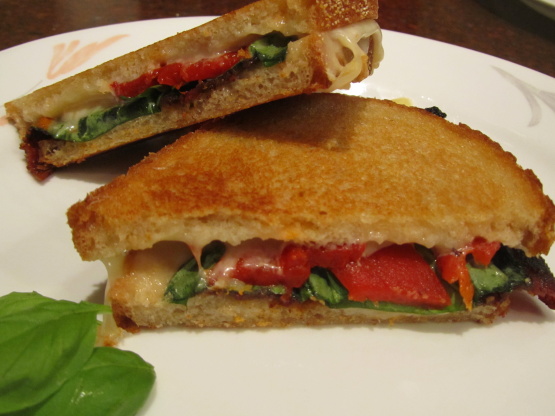 Not the typical open faced Danish sandwich, but using some of their ingredients like Havarti cheese, rye bread, pickles, and foolproof sweet and spicy bacon creating a taste bud awaking Danish grilled cheese.. Serve with pommes frites and a cold Carl Carlsberg or Tuborg beer. Made for Fall 2011 Craze-E

Amazing! Candied bacon on pumpernickel/rye swirl...one of the best paninis I have made! When I first read the recipe, I thought there was too much going on, but all the flavors made a very interesting sandwich. This was my first time using a pickle on a panini and I will do this often; it added a nice fresh, juicy crunch. My only suggestion would be to change baking "sheet" to a pan with sides since the grease leaked out of the flat pan and made a mess of my oven. Good luck in the contest!
Foolproof bacon

1

tablespoon brown sugar
1⁄4-1⁄2 teaspoon chili powder (chipotle is a nice choice if you like smoky)
1⁄4 lb center-cut bacon, 4 slices

Grilled Cheese

4

slices bread (a hearty rye with caraway seeds is really nice with the Havarti cheese )
1⁄4 cup butter, softened

2

ounces roasted sweet red peppers, that is one small pepper from the jar towel dried

2

thin slices pickles (give a nice bite and tang)

4

slices havarti cheese (garlic and herb if you can get it)

4

fresh basil leaves (optional if not using rye cheese or if you are)
Line a baking sheet with foil. For EASY clean up.
Lay bacon slices on the foil lined baking sheet.
Sprinkle bacon with brown sugar and chili powder giving them a toss to coat then spread bacon out in a single layer.
Place pan on the center rack of a cold oven.
Close oven door.
Turn oven on to 400°F Check 17 to 20 minutes later. The exact time will depend on the thickness of the bacon slices, and also on how quickly your oven reaches 400 degrees.
Keep your eye on the bacon during the final few minutes of cooking to make sure that it doesn't burn. Also, remove the cooked bacon from the hot pan right away. The heat from the pan and the hot bacon fat will continue cooking the bacon.
Heat a cast iron or heavy bottom skillet to medium high heat.
Layer your sandwich:.
Start with bread slice, cheese, red bell pepper slices, pickle slices, bacon, cheese, optional basil, bread slice. Spread butter over the top of the sandwich. Place the sandwich top side down (butter side down) on the hot pan. Butter the exposed side of the sandwich.
Let cook for a minute and then flip over to its other side.
Press down on the sandwich with a spatula or lay a heavy pan on the sandwich. Cook for 2 minutes flip and wiegh down and cook for 1 minute more. If you have a panini press do use it.
The sandwich is done when the sides are toasted and the cheese is melted. Cut in half and ENJOY!