Denise's Saffron Vegetable Fried Rice
PaulaG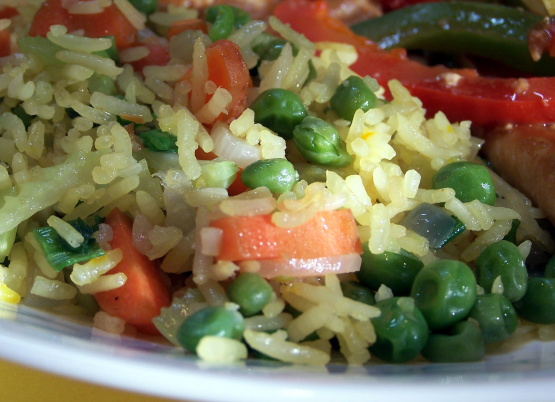 An interesting meld of Indian and Chinese cooking. My husband's cousin always makes this yummy rice for family gatherings. This is her recipe as told to me over the phone. Amounts in the ingredients are our best guesses since she doesn't measure the ingredients. I omitted the salt in the recipe because I cook low salt. You can add salt to taste at step 6. Very little is needed if you choose to add msg and bear in mind that oyster sauce usually contains some salt.

Made this to go along with recipe#196336#196336 and what a delicious side dish. I used fresh chicken broth instead of water, added some minced garlic and followed the rest of the instructions! (I didn't add the optional MSG) Thank you for submitting the recipe. Made for Novembers TOTM Diabetes Forum 2011.
Cook the rice with the saffron and two cups water according to directions on the package or box.
Bring to a boil over high heat and let boil for one minute.
Cover saucepan and continue to cook until all the water has been absorbed and the rice is cooked (15 - 20 minutes). Remove from heat.
In a large and deep frying pan or wok, heat oil and sauté carrots, onions and sweet pepper until the onions are translucent.
Add peas and carrots cook a minute or two.
Add the oyster sauce, msg, and rice to the vegetables and mix well.
Turn off the heat and stir in the chopped celery.