Denise's Louisiana Hush Puppies & Fried Catfish
bailey46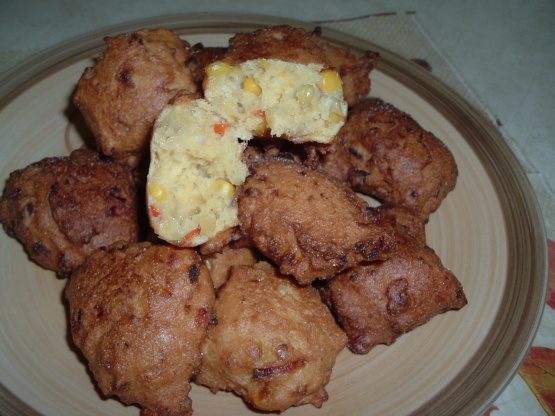 These hush puppies have a cake like consistency (not your little ball of dry cornmeal). This is my base recipe, but it can be altered to your own taste, such as less sugar and more jalapeño. The catfish recipe is my husband's, and is more of an ingredient than a recipe, but this is our most requested meal when we're having friends over, so I thought I'd add it. I usually also serve with french fries, onion rings and fried mushrooms. Not the most healthy meal in the world...but oh, so good.

Hands down, the BEST hush puppies I have EVER had, let alone made! Way better than many restaurants' versions I have had in the past; soft & moist, similar to "donut holes", but of course with the corn & onion included. (I left out the jalapeno, but I'm sure that works fine for those who like a spicier version.) I suspect the batter, minus the whole kernel corn & chopped onion, would also work well for corn dogs.<br/>The catfish was also excellent, & VERY simple to make! I had never tried the Louisiana Fish Fry before, but I am definitely hooked now. It went a lot farther than I expected, too; I used less than half a bag for 2-3 lbs of catfish, and there was plenty left over. My son doesn't like fish, so I'm going to try using it with chicken breast strips or tenders next time, as well as the fish.<br/>Both recipes are definitely a keeper!
HUSH PUPPIES

3⁄4 cup self rising flour
3⁄4 cup plain cornmeal
1⁄3 cup sugar
1⁄2 cup whole kernel corn, Drained
3⁄4 cup creamed corn
1⁄2 cup diced onion

1

egg, Slightly Beaten

1

tablespoon chopped jalapeno pepper
peanut oil (for frying)

ROBBYS FRIED CAT FISH

salt and pepper, to taste

1

cup seasoned fish fry (We use Louisiana Fish Fry, (it can be found on-line at www.louisianafishfry.com)
HUSH PUPPIES:.
Heat oil to 350°F.
Stir together all ingredients.
Drop by tablespoon into hot oil (Hint: drop close to oil to prevent getting a bunch of little hush puppies).
When hush puppies float and are golden on one side, flip and brown other side.
Remove from oil and place on a paper towel lined cookie sheet, in a low oven.
FRIED CATFISH.
Rinse catfish fillets in cold water.
Drain well.
Salt and pepper the fish. (At this point other seasonings can be added, such as garlic, Old Bay Tony's, etc).
Dredge fish in Seasoned Fish Fry.
Deep fry in hot oil.