Deluxe Tossed and Layered Salad
Lvs2Cook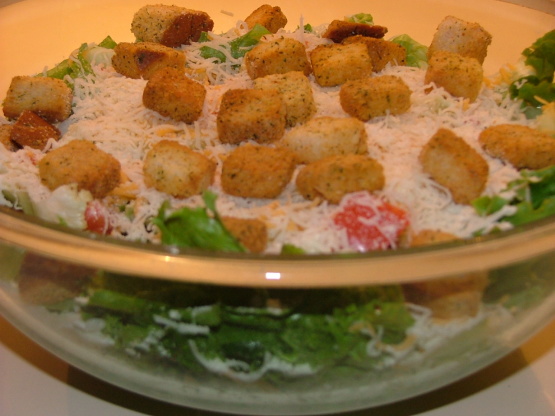 This comes from my sister Terry, and was published in the church cookbook for the Molalla Christian Church, here in Oregon. Prep time includes chilling.

Excellent salad! Simple to put together and it makes a wonderful presentation in a glass bowl. I used chunked up cucumber instead of avocado since I am the only one who likes avocado. I think it would be awesome with the avocado. I used green leaf lettuce. We used whatever dressings we had in the fridge. This salad would also be great to bring to a potluck ~ it makes a large salad. Thanks for posting a new salad to add to my cookbook!
In a large serving bowl, toss together half of all the ingredients except for the Parmesan and croutons; sprinkle half of the Parmesan over the top.
Layer the remaining ingredients over: lettuce, tomato, avocado, cheddar, Mozzarella, remaining Parmesan, then sprinkle the croutons over the top.
Refrigerate for 30 minutes, then serve with your favorite dressing (Bersteins is a good brand).