I keep this in my pantry year round. Wonderful pick-me up. Great to give as gifts
Directions
Combine all ingredients, stirring well.
Store in an airtight container.
To serve, place 1 tablespoon plus 1 teaspoon mixture in a cup; add 1 cup boiling water, stirring well.
Reviews
Most Helpful
I have made this for many years except for out the red hots. Adding them sounded like a wonderful idea so I tried it. Fabulous. Just adds more intense cinnamon flavor which I really liked. I am going to make another batch and give this out as Christmas gifts to my co-workers and friends. Thanks Nurse Di.
I received this recipe about 10 yrs ago and made it all winter--then promptly lost it. So glad to find it again!!! Try this--the cinnamon candies adds an extra dimension to the tea!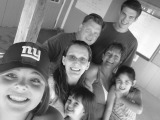 Yummy! After reading other reviews, I crushed the cinnamon candies before I added them so they'd melt faster. LOVE that extra kick!