Bergy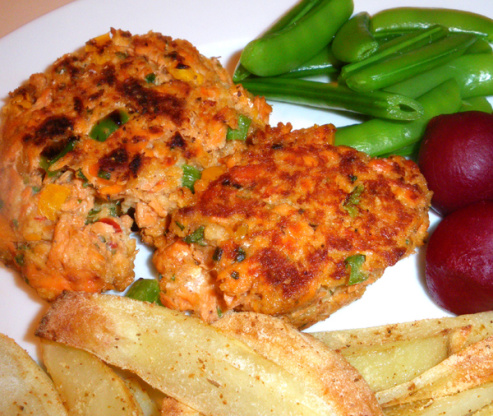 Had this tonight it was so good I just had to share. It is based on Rachael Ray's Salmon Cakes with modifications by me.
This recipe is sooooo outstanding. The cardamom adds extra zing and loved it! I used left over salmon. I did leave out mace (substituted nutmeg) and then left out the pepper sauce.
vegetable oil or canola oil, for frying about 1/4 inch

2

(340.19 g) portions salmon, cooked drained well or 2 (340.19 g) can canned salmon, drained well

236.59

ml whole wheat crackers, salted crushed

2

large eggs, beaten

2.46

ml celery seed

0.59

ml fresh ground pepper

0.25

ml ground cardamom

0.25

ml mustard powder

0.25

ml ground cloves

2.46

ml paprika

0.25

ml mace

1

red bell pepper, seeded and finely chopped

1

green bell pepper, seeded and finely chopped

1

roasted red peppers or 1 pickled pimiento, chopped

14.79

ml Dijon mustard

4.92

ml Worcestershire sauce

14.79

ml dried chives (fresh would be better)

44.37

ml fresh dill, a handful, finely chopped

44.37

ml fresh parsley, coarsely chopped

4.92

ml cayenne pepper sauce

1

lemon, juice and zest of
salad greens
extra virgin olive oil, for drizzling

118.29

ml mayonnaise or 118.29 ml low-fat mayonnaise

118.29

ml chili sauce, mixed with cooked corn and apples

29.58

ml ketchup

1

kosher dill, chopped
Rinse and spin salad greens of your choice and place in salad bowl.
Drain salmon and fluff with a fork in a medium mixing bowl.
Add crackers and mix well.
Add the rest of the ingredients up until and including cayenne pepper sauce.
Zest lemon into bowl and mix well and form into 1 inch thick patties.
Heat oil on a medium-high burner.
Mix mayonnaise, chili sauce, corn, apple, ketchup, and dill in a bowl.
Toss coarse salt with salad greens; drizzle with lemon juice and toss again. Drizzle with olive oil and divide on plates.
Fry salmon burgers until golden brown. Flip and brown other side; drain briefly on a paper towel.
Place burgers on top of salad greens and dollop mayonnaise sauce on top of burgers.
Makes about 7 burgers.